Horizon Zero Dawn Complete Edition - PS4 - Mídia Digital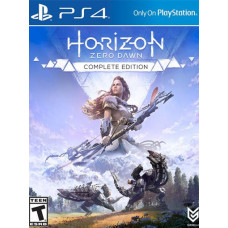 Código de ativação do game via PSN
Horizon Zero Dawn: Complete Edition includes:
• Full Game
• The Frozen Wilds Expansion
• Digital art book
• PS4 Dynamic Theme
• Bonus Weapons, Outfits, and Resources
Em um mundo aberto, exuberante, vibrante e pós-apocalíptico, criaturas mecanizadas colossais vagam por uma paisagem fora do controle da humanidade. Ao longo do tempo, a evolução humana regrediu para uma existência tribal de caça e colheita, com sobrevivência em meio às altas florestas, cadeias de montanhas imponentes e ruínas de uma civilização extinta – enquanto máquinas selvagens agora detêm todo o poder. Você é Aloy, um caçador habilidoso que utiliza sua velocidade, esperteza e agilidade para permanecer vivo e proteger sua tribo contra a força, o tamanho e o poder bruto das máquinas. Contra todas as probabilidades, você precisa embarcar em uma jornada irresistível e emocionante para descobrir os segredos de uma civilização perdida, de artefatos antigos que ela deixou para trás e para aprender mais sobre as tecnologias avançadas que determinarão o destino do planeta – e da própria vida humana.
Simulador de Frete